February 10, 2022
In-House vs. Outsourced: How to Choose the Right Production Printing Strategy
Production printing uses high-speed computer printers designed to produce high-resolution materials like booklets, manuals, and more. Production print shops source top-performing equipment and expert staff to create marketing materials — like brochures and signage — and other types of collateral for many clients.
For example, a university may employ a production print shop to produce diplomas for graduation or signage to hang up around campus. A prominent advertising firm may send over their rush jobs. A mid-size local tax advisor may rely on a print shop to produce various booklets for its clients.
Many organizations lean heavily on an external production printing partner, sacrificing pixel-perfect control of their printed materials for timely turnaround or access to the digital printing press they don't have in the office. Some teams send such a large volume of jobs to their outsourcer that they begin to reevaluate their organization's print strategy and explore opening their own in-house production print shop instead.
While bringing your production printing in-house may sound ideal in theory, it's not as simple as purchasing one new printer or assigning a couple of existing employees to manage it. Before you make the switch, it's crucial to consider the pros and cons of both options, then decide which use case fits your business the best by:
Evaluating Your Production Print Priorities.
Every business is different, which means you'll have unique production print needs across your organization. As you evaluate which print strategy is the right fit for your teams, you'll want to refer back to historical trends, assess upcoming needs, and align on print priorities with other internal leaders before making any final decisions.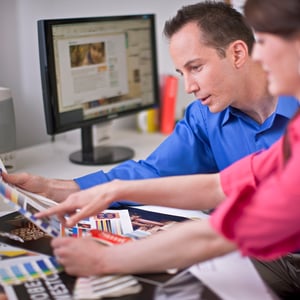 Start by asking, "Which element of production print is most valuable to our organization?" You'll need to get input from various departments, like marketing and sales, on what they value most in a production print partner. The answers you uncover will likely depend on your current initiatives and long-term goals, as well as internal limitations or constraints. Answers may look like this:
Speed — We need to produce large volumes of printed materials with little notice to support multiple flexible marketing blitzes throughout the year, plus any last-minute requests from our higher-ups.
Consistency — We need materials to stay consistent across mediums and orders. Every employee adheres to a strict list of pre-set requirements, and our print shop always follows through with them.
Cost-effectiveness — We're looking for the most affordable way to produce high-resolution collateral for various teams across the company. It doesn't have to be perfect; it just needs to be good enough without breaking the bank.
Control — We want the ability to customize even the most minute details of our prints, then follow them from design to final production and make necessary tweaks along the way.
You likely won't find all of these qualities in a single solution, even if you build a brand new shop from the ground up. Instead, weigh out your most critical priorities and use them to inform your print strategy. As a general rule of thumb, outsourcing is best for speed and cost-effectiveness, while in-house operations give teams better control over their prints and open the door for cohesive branding.
Conducting a Comparative Cost-Benefit Analysis.

Whether you're arguing to bring production printing in-house or renew your contract with an outsourced print shop, conducting a detailed cost-benefit analysis is one of the best ways to present your print strategy to a larger team. As you put together an analysis for each approach, be sure you include one-time costs, recurring expenses, and several "what if" expense factors to give stakeholders a realistic idea of the business impacts. At a high level, you should include the following elements for each proposed option:
One-time setup or renewal costs
Recurring expenses
Projected cost savings
Potential gains or growth opportunities
Projected staffing impact
Long-term business impacts
Potential losses from a failed implementation or poor partnership
You might also use this opportunity to tie your print strategy back to your organization's larger business goals. For example, in-house printing could help you expand to new markets, while outsourcing could enable you to invest in more staff across other departments.
Considering Team Expertise and Technology Adoption Potential.
Even if you're confident that the financial gain of your new print shop will far outweigh the setup and equipment costs, you'll want to add another layer to your evaluation before making your final decision.
While you may be able to rent the appropriate equipment and find a physical space for a new print shop, you'll still need to source and hire the right teams to keep it operational and ensure your materials turn out as you'd expect.
Since even freestanding print shops outsource a portion of their jobs to offsite experts, it's understandable that a lack of internal expertise is the number one reason executives don't want to bring production printing in-house. Why? Because production printing experts are:
Few and far between, as many operators have already retired or are preparing to leave the workforce.
Expensive to keep on staff, especially if an organization doesn't need 40 hours of print work per week.
Near-impossible to replace or imitate, even after extensive on-the-job training.
So even if you have the headcount to operate and manage a new print shop, you shouldn't dive into printing without an expert on hand. You'll see subpar results by simply pulling in an unqualified existing team to operate your new state-of-the-art equipment and manage every step of the print process, from design to final binding.
Plus, if you begin operations at your new print shop without properly staffing or delegating responsibilities within it, you could see a detrimental drop in print quality.
The good news is, emerging business technology integrations can help you bridge the gap between production print experts and the rest of your staff. Think pre-built branded templates, consistent color application, and user-friendly design tools that don't compromise print quality. These solutions enable collaboration — either with an external shop or your coworkers — and help you establish standard print processes to guide your business.
Which Option is Best For Your Business?
Unfortunately, there's no simple answer or blanket solution for corporate production printing. The strategy you decide to adopt will depend on an array of internal and external factors, and you'll likely need to lean on the guidance of a trusted business operations partner to identify the best path forward.
No matter which approach you choose, a reliable print partner like UBEO can help. We'll work with you to determine the right mix of hardware and software needed to manage your in-house office print equipment, from standard copiers and scanners to complex digital printing presses and other commercial tools.
Plus, we won't simply set and forget your print operations. Instead, our team of experts partners with you from the get-go, identifying right-fit print solutions, then following up with routine assessments, education, and training to close knowledge gaps and help you evolve your print strategy as your business needs change.
Contact our team today to explore your options and find the right fit for your business printing operations.
Jordan in a Senior Systems analyst and has been in the Information Technology field for over 25 years. Jordan specializes in systems integrations.