August 15, 2023
What is a BTA?
What is a BTA and Can Your Organization Benefit From the Process?

With the rise of our digital-first age, most businesses are playing catch up with technology to stay on top of the latest trends and pinpoint which tools work best for their changing needs. The fast pace of innovation makes it difficult to stay up to date — and nearly impossible to strategically organize your system from start to finish without an intentional checkpoint.
What often results from this rat race to technical advancement is a nightmare for every operations manager and IT professional: mix-matched devices, servers, platforms, and drivers that don't integrate seamlessly. Many office tech ecosystems leave a lot to be desired with excessive errors, sluggish processes, lack of transparency, and cybersecurity gaps.
So, when you are considering a new printer setup or want stronger security for your document management system, you can't just slap a bandaid over the problem. Before jumping into potential solutions, we use a BTA to get to the heart of the issues at hand.
What Is a BTA?
A Business Technology Assessment (BTA) is an analysis of your business processes, technology, solutions and the experience of your end users as it relates to the flow of business technology and data in your organization.The BTA provides a crucial roadmap to help optimize your processes, reduce technology bottlenecks, and safeguard your business. It serves to clarify what you are working with and identify areas where your current setup could improve.

UBEO leads with this critical first step when we seek new partnerships with potential clients. You might wonder, "Why slow down the sales process to conduct a Business Technology Assessment? What does a BTA mean?" Let's break this up into a few specific questions.
What are the Signs You Need a BTA?
A Business Technology Assessment can be conducted at any time. Most organizations begin to look at these issues when the technology starts to fail. It's far better to be proactive than forced to react when something starts going wrong.
Our goal is to begin the process as soon as possible to help eliminate that from happening to your team.
Technology progresses so quickly and usually gets better, faster, and cheaper. The older your fleet gets, the more unreliable it becomes, and the more of a liability it is for your team. Signs you may need a BTA include:
A lack of strategic assessment for an extended amount of time
Old or outdated equipment
Gaps in your workflows because of integration issues between devices and platforms
A sluggish or frustrating user experience
Unknown print costs, inconsistent expenses, or limited insight into machine use
A haphazard document workflow
Security concerns surrounding your print or document management processes
Redundant tasks due to a lack of automation
What Is the Value of a BTA to My Organization?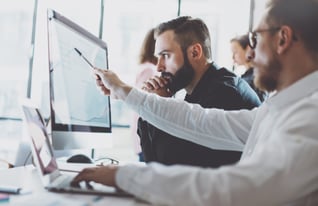 For all organizations big or small, documentation is critical to the success and an essential function of daily business. Whether you are a non-profit or a Fortune 100 enterprise company, you will rely heavily on business document processes to run your business successfully.
What happens when your business technology — like your MFP's, scanners, document management, and other document systems — stop working? What does that do to your operations?
Consider the effect of interrupting processes in Human Resources, Finance, or Accounts Receivable. It's important to assess whether your systems are well designed, fully functional, and best equipped to meet your needs. You should regularly consider workflows surrounding your technology to identify redundancies, mitigate security concerns, and eliminate unnecessary tasks.
A BTA can help lower your costs, improve your resource allocation, reduce future downtime, and improve your business agility.
What Specific Information Does a BTA Provide?
A Business Technology Assessment delivers some critical insights:
Uncovers inefficient workflows, applications, and document processes that unnecessarily waste labor and resources
Highlights areas of unregulated expenses and hidden costs (such as unmanaged printing consumables, outsourced marketing collateral, wasted materials, etc.)
Reveals how technology can give your organization leverage to add capacity without the need to add headcount
Provides a roadmap to streamline your technology to drive company goals and initiatives

Who Conducts a BTA?
A BTA is primarily conducted by a Business Analyst and the Account Manager. This knowledgable team will lead the process and engage other experts within our organization to assist when needed. UBEO has made a large investment in a team of certified specialists in many areas, including:
Scanning solutions
Integrated applications
Workflow analysis
Information technology management
Throughout the BTA process, these experts will be brought in to work with different departments, specialists, and decision makers within your organization to deliver a different level of due diligence and understanding of your organization's goals and initiatives as it relates to business technology. This collaborative, team-based approach, specialty product knowledge and expertise provide a tremendous amount of value to our clients.

What happens during a Business Technology Assessment?
The following outline sounds like a lot, but nearly all of the work you see below is done by UBEO. What we need from your team is partnership to ensure we are meeting your biggest challenges and solving for your biggest hurdles.
Here is an overview of the process:
1. Setting Goals
You can't measure success without well-established goals. A Business Technology Assessment will begin with a conversation around the goals, initiatives, projects and future growth of your organization. We seek to understand the goals of your organization so we can align your technology to help support those objectives. We seek to serve you as a strategic partner, not a vendor.
2. The Exploratory Walk
Next, your UBEO team will walk your facility and collect data required for the analysis. At the same time, we conduct brief interviews with your users to uncover their challenges and identify potential areas of improvement. We are also observing workflow and the condition of your current devices when collecting the essential data.
3. Expense Investigation
It's important to have a full picture of your setup, including the commitments that could impact the next steps. We collect any contracts and invoices related to your current print fleet during this part of the BTA. We'll need to understand where you are in your current contracts as well as the term of those contracts. We will also be looking at all current known and unknown monthly expenses to create a full forensic financial analysis for the assessment process.
4. The Analysis
Most of the work is done in the Analysis phase. Your UBEO analyst will compile all of the data and observations. We produce a deliverable that communicates a clear understanding of costs, existing challenges, and areas of improvement.
5. The Findings
At this stage, we present the results of the entire assessment to your leadership team and dig deep into the information. The goal of this exercise is to provide a complete view of the hard and soft costs associated with your technology and report the experience your users have with the current technology on a daily basis.
6. The Solution
UBEO's one-of-a-kind acquisition program as well as our brand-agnostic solutions will be tailored to meet your business needs. This plan will be co-authored with all decision makers in your organization to create an actionable strategic roadmap for your organization.
7. BTA Implementation
As a strategic partner, we help you achieve optimization with a phase led by our implementation team of Solution Architects, the Business Analyst & Solution Specialist. Our end-to-end approach ensures your BTA roadmap is carried out as envisioned and agreed upon by our team and your key stakeholders.
Can I Get a BTA if I am Under Contract?

UBEO is one of the largest business technology providers in the nation. Our size gives us greater buy-out flexibility than most other vendors in our industry. We can begin a buy-out conversation years before most other vendors are willing. Each case is unique, and if you need help understanding your situation, reach out to our team and we can assist.

Many of the solutions UBEO provides are not related to any contractual agreements. Most contracts are only related to a company's large Multi-function Printers. Document management challenges, print only devices, large volume printing and other IT challenges are all areas that may not be related to any contractual agreements.
How Do I Start the Conversation?
It's time to optimize your company's tech landscape with a start-to-finish solution. A BTA provides clear insights and custom-fit solutions to help drive growth and efficiency for your business.
As your strategic technology partner, UBEO will help keep your business on the cutting edge of innovation. Talk to our team today to learn what expert guidance, seamless integration, and cutting-edge technologies can do for you.
If you are interested in getting a Business Technology Assessment for your organization, complete our request form here.
I am proud to work at Ubeo and be part of the Business Technology and Print world for 18 years. In my time in this ever-evolving customer-centric company, I have developed from a Customer Service Representative through growth and development of the Business Technology Assessment (BTA) process as the Senior Business...