March 20, 2020
A Simple Guide for Cleaning your Multifunction Device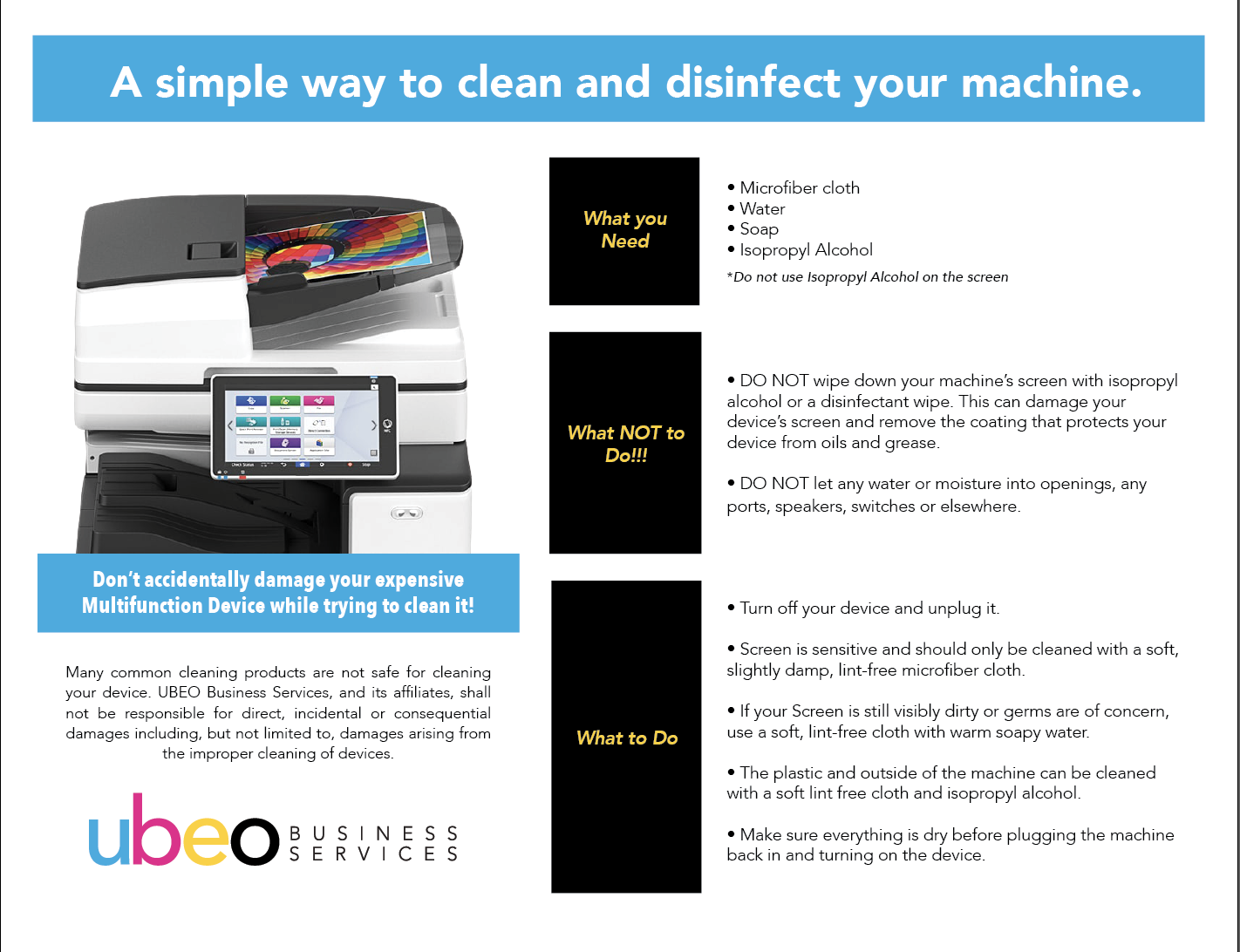 In this time of heightened awareness around personal hygiene, hand washing and sanitation, all of us are evaluating our routines.
One often overlooked area is something many of us touch multiple times a day; our office Multifunction Device. The technicians at UBEO have a cleaning regiment they follow for devices during service calls, but sometimes those service calls can be months or even years apart!
Your office should make a regular habit of cleaning shared printing devices as they can also be a potential source of germs; but HOLD ON! You can't use just any cleaning products. Products containing bleach or other harsh chemicals can cause damage to your machine, specifically the touch screen. Below is a simple guide to cleaning your office Multi-function Device. You can also download a printable version here and place next to your machine.
Cleaning guidance
Before getting started wash your hands and make sure you are germ free. It is also a good idea to wash your hands once you are finished cleaning your product.
What you Need:
Microfiber cloth
Water
Isopropyl Alcohol (Do not use Isopropyl Alcohol on the screen)
Soap
What to Do:
Turn off your device and unplug it
Screen is sensitive and should only be cleaned with a soft, slightly damp, lint-free microfiber cloth.
If your Screen is still visibly dirty or germs are of concern, use a soft, lint-free cloth with warm soapy water.
The plastic and outside of the machine can be cleaned with a soft lint free cloth and isopropyl alcohol
DON'T:
Wipe down your machines screen with isopropyl alcohol or a disinfectant wipe. This can damage your device's screen and remove the coating that protects your device from oils and grease.
Let any water or moisture into openings, any ports, speakers, switches or elsewhere.
Make sure everything is dry before plugging the machine back in and turning on the device.
Follow this simple routine and you can help limit the spread of germs in your office!
UBEO Business Services, and its affiliates, shall not be responsible for direct, incidental or consequential damages including, but not limited to, damages arising from the improper cleaning of devices.
Ronnie Hay is the Marketing Director for UBEO.
Connect with the author