May 3, 2023
Easy and Delicious Potluck Recipes to WOW Your Coworkers
Do you typically pitch in at office events, or do you feel overwhelmed with the options? Putting yourself out there with a dish for the office potluck can be a great way to build stronger office relationships and boost the morale of your team.
Potlucks are a popular office event because they're a great way to build community and encourage teamwork in the workplace. Everyone can contribute a dish, which means everyone is involved and has a stake in the event's success.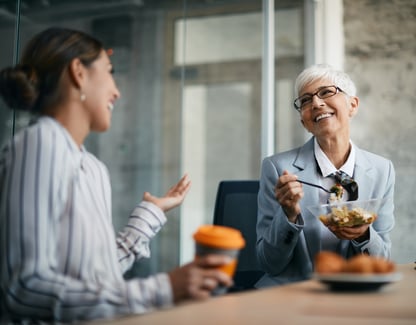 This kind of event gives people a chance to show off their cooking skills and share their favorite dishes with colleagues. An office carry-in can be a fun and exciting way to try new foods and discover new recipes.
Plus, potlucks are often more affordable than catering an event. This makes them a budget-friendly option for companies and employees alike.
Potlucks offer a chance to take a break from work, relax, and enjoy some delicious food with your colleagues. Choosing the perfect carry-in dish often comes down to flavor, cost, and simplicity. Keep reading for a list of our favorite potluck recipes for work!
What is the Best Food to Bring to a Potluck?
You want to bring something easy and popular to your carry-in. Here are some general guidelines for the best office potluck dishes.
Time-Saving: You want to bring something easy to an office carry-in or potluck event because it saves you time in the kitchen. If you're a busy professional, you likely don't have hours to spend preparing a complicated dish. Bringing something simple and easy to assemble means you can focus on your work instead of your dish.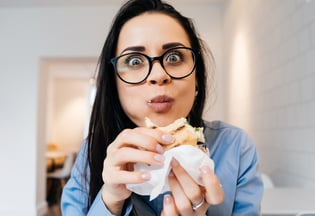 General Favorite: You want to choose a dish that appeals to a lot of people. Complicated dishes that require specific preparation or cooking methods can be intimidating to some people and may not appeal to everyone's tastes. Simple dishes like dips, finger foods, or salads are often more universally enjoyed.
Unique Pick: If you pick a dish that's too popular, you run the risk of having multiple dishes of essentially the same food. This is why a sign-up list can be a great idea. However, if the office potluck is left a free-for-all, you'll want to pick something that isn't considered a carry-in staple!
Stress-Free: Bringing something easy allows you to focus on the social aspect of the potluck event. You can enjoy your time chatting with your colleagues and getting to know them better — rather than stressing over your dish in the kitchen.
Cost-Effective: For cheap potluck ideas, you want to choose a dish that has inexpensive and easy-to-find ingredients. In most cases, it isn't worth spending extra money on gourmet ingredients that people may not truly appreciate. Instead, aim to get the most for your dollar with a tasty, low-cost recipe.
Leftover Friendly: Finally, consider what kind of a dish is something you don't mind having left over after the event. You don't want to bring something you have to toss out afterward. Consider what foods are easy to send home with your coworkers or make for good leftovers later.
What's The Easiest Thing to Bring to a Potluck?
Here are some easy dishes perfect for your office potluck. Check out the linked recipes to get the ingredients list and instructions!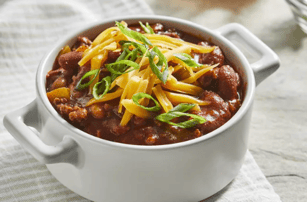 A hearty chili is always a crowd-pleaser. This crockpot recipe for your office party is a great choice, as it can easily be prepared ahead of time and kept warm throughout the day. It's a hearty, filling meal that's sure to satisfy everyone's appetite.
This recipe is easy to make in a slow cooker and customize to your liking. You can even bring along some shredded cheddar cheese and tortilla chips if you really want to impress!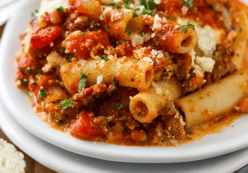 This cheesy pasta dish is sure to satisfy everyone's cravings. Baked ziti is a great choice for a potluck because it can be prepared in advance and easily reheated in the office kitchen. It's a crowd-pleaser and a comfort food for many.
Plus, it's easy to make as a vegetarian option that's still packed with flavor. Just skip the meat if you want to create a delicious veggie-based pasta dish for the potluck.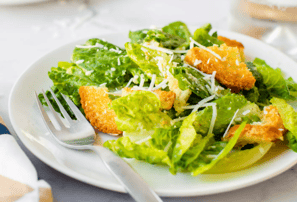 A Caesar salad is a simple yet tasty addition to any potluck. Everyone loves to have a delicious green option at the potluck, which makes this dish perfect. It's also easy to transport and assemble on-site. While you can certainly buy Caesar dressing at the store, a homemade dressing will elevate the dish with extra fresh flavor.
Consider keeping your croutons on the side as a topper for those who want a little flavorful crunch, while still catering to anyone who might need a gluten-free or low-carb option.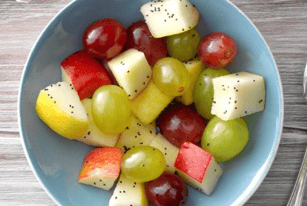 A fruit salad is a refreshing and healthy option for an office potluck. If you are looking for vegetarian potluck recipes, this is a great option. It's easy to make and can be customized to include seasonal fruits. It's a great way to add a little balance to the potluck spread while still providing something sweet and delicious.
The right mix of fruits served with a simple dressing can take your fruit salad to the next level. Plus, the acidic nature of a little lemon or lime juice will help your fruit remain fresh longer.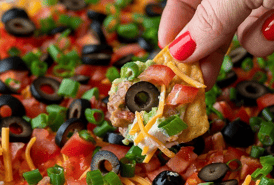 This crowd-pleaser is a fun, interactive dish that encourages sharing and conversation. A classic dip is perfect for an office potluck because it's simple to put together, easy to transport, and doesn't require any last-minute touches. This dip can be served with chips or veggies.
For a fun twist on the classic seven-layer dip, try a Layered Pizza Dip or Layered Asian Dip.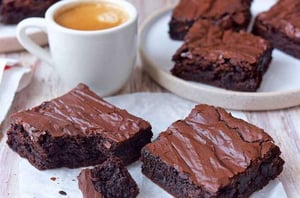 Brownies are a great dessert option for a potluck as they're easy to transport and can be cut into bite-sized pieces for sharing. They're a sweet treat and a crowd favorite that can be made the day before. Cut your brownie squares as soon as the pan is slightly cooled, and then cover with air-tight plastic wrap to keep them fresh until they are ready to be served.
We highly recommend picking up two boxes of Ghirardelli brownie mix for thick, fudgy (and insanely easy) brownies. However, if you are that coworker, you could totally opt to make them from scratch.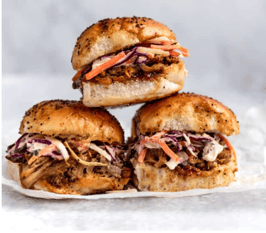 Pulled pork sandwiches are a classic potluck dish that's always a hit. This recipe includes a homemade coleslaw topping that elevates the dish with a little extra crunch and flavor.
Sliders may take a little more work than some of the other dishes on this list, but they are totally worth it. Prepare your meat in a slow cooker so it can be kept warm throughout the day, and keep your coleslaw marinating in the fridge. Then, assemble your sliders right before things are ready to start.
Ronnie Hay is the Marketing Director for UBEO.
Connect with the author