July 22, 2021
How In-House Printing Benefits Your Internal Teams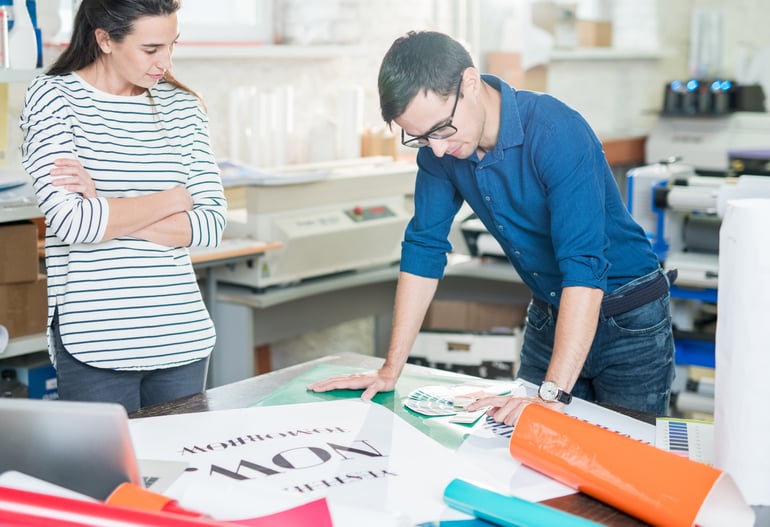 Many organizations outsource printing for marketing materials, invoicing, and other high-volume print runs. Outsourcing can provide some good benefits, such as no labor costs and a straightforward business process, but it's not a perfect solution.
Marketing teams and office managers face a few critical challenges with outsourced partnerships, including:
Lag time – You are always at the mercy of the printer's schedule. Turnaround can be quick, or it can take days. And you'll experience additional lag time for each round of revisions.
Loss of Control – Your company gives up a certain degree of control when outsourcing. If your needs are specific, it takes a lot of back and forth to get the results you are looking for.
Cost – Commercial printers charge a premium for their services. Plus, unused prints or materials with errors turn into nothing more than expensive filler for your recycling bin.
As you weigh out the pros and cons, you may wonder how much your organization really spends on outsourced printing and how much you potentially save by pulling those same operations in-house.
---
How can my business benefit from in-house printing?
Decision-makers may overestimate the cost and difficulty of bringing printing in-house, but they can also overlook some significant benefits.
If you spend at least $1,000 per month in outsourced printing, we'd recommend researching alternative internal solutions. However, your team can realize tremendous benefits even if you don't spend that much per month on outsourcing.
1. Speed up production and delivery.
Perhaps the single greatest advantage to in-house printing is speed. Unlike outsourced agreements, where you expect a standard turnaround of days or weeks, you can create and produce printed materials in hours or even minutes.
Having an in-house print solution means you are the only client. Your systems are there to serve you and you alone. Even if multiple internal teams operate on the same printing equipment, there is often little lag time between file submission, proofing, and the final output.
From concept to creation, bringing your printing in-house removes friction from the process and allows your marketing team to move faster than ever before.
2. Keep colors under control.
A nearly universal brand requirement is to ensure your brand colors stay consistent across digital and print media. When you put that responsibility in the hands of a commercial printer, you'll inevitably run into some color discrepancies due to slight variations in print calibration or machine output quality.
In many cases, marketers simply overlook this output, expecting commercial printers to always provide them with the "real color." When in fact, Pantone (PMS) colors can vary widely from device to device.
When you print in-house, you gain control over machine calibration, and you can keep a steady eye on quality and consistency. You can adjust your in-house print equipment to meet your company's specifications, then tailor your technology to your desired output and run frequent color calibrations to ensure machines stay calibrated.
3. Make printing a part of the design process.
Experimentation is a huge part of the design process. Your design team will likely end up in a frustrating bottleneck if your business outsources all printing. They'll wait for costly, time-consuming updates from your print supplier and may only get a single round of revisions before production begins.
Whether you need to replace specific colors in a spread or test multiple variations of a design, having the equipment in-house is critical. The ability to design, print, and review in a single space gives teams the flexibility to make changes quickly and see results in real-time.
Plus, you'll make iterative improvements to design and print processes without incurring hefty rework fees or losing momentum as you wait for new deliverables to come back to your design teams.
4. Cut down on wasted materials.
Speaking of experimentation, have you ever run into the all-too-common marketing nightmare of a missed typo or last-minute messaging shift? If all your materials come from a commercial printer, you likely won't catch the change in time, which means you end up with a pricey stack of unusable materials.
Just as an in-house production process gives teams time to iterate, ideate, and adjust during the design process, it also makes it easier to pivot direction on a dime, even if printing has already begun. If you decide to tweak messaging or content, you can notify in-house print teams immediately and screech operations to a halt until your new materials are ready to go.
Additionally, an in-house print solution enables your teams to print smaller batches on-demand rather than stocking up on bulk orders due to contract requirements or long waiting lists for new assets. This as-needed approach gives teams more time to estimate demand and eliminate excess prints in the process.
How can I realistically bring printing in-house?
Successful in-house printing requires a balance of effective communication, innovative technology, and streamlined internal processes. You likely won't see many benefits if you invest in an expensive fleet of printers that your teams can't properly implement or maintain.
At UBEO, we understand that in-house print operations encompass much more than the equipment itself. Our team will work with you to:
Assess your current operations to unlock new improvement opportunities
Design a solution that optimizes your people, processes, and technologies
Provide ongoing support to ensure you achieve organization-wide KPIs
If you're considering bringing your outsourced printing in-house, let us help you. Our team will assist you through this process and help you determine the best solution for your print operations and other tech-enabled aspects of your business.
Contact our team today to see how we can support your print operations.
Ronnie Hay is the Marketing Director for UBEO.
Connect with the author