October 7, 2021
4 Reasons to Invest in a BTA
As your organization scales or expands to new service areas, you add new teams, tools, and processes to keep up with demand. This growth, while positive, can drastically impact your workflows, adding new complexities — and even inefficiencies — over time.
This disorganized approach to business technology management often leaves IT and finance departments at a disadvantage. Plus, it can incur hidden expenses and lead to workflow breakdowns across your organization if it's not properly optimized.
At UBEO, we've developed a custom-tailored approach to workflow optimization and business technology enablement. Our Business Technology Assessment (BTA) is an analysis of your business processes, technology, solutions, and the experience of your end-users related to the flow of business technology and data in your organization.
The BTA process allows us to take a deep dive into your operations. We'll then use our detailed findings to develop a custom solution and implementation plan based on your organizational structure and existing challenges. BTA results address the pain points associated with unmanaged business operations such as printing and other core workflows related to hardware, software, and documentation.
In this post, we'll highlight several benefits your organization will gain from a BTA with UBEO, both during the analysis process and in the implementation phase.
1. Go Deeper Than Standard Technology or Process Audits

As you look for ways to improve your print operations and technology workflows, a laundry list of audit services will likely populate your search results. However, you must understand exactly what each provider is offering and to what extent they'll analyze or audit your organization.
Most "technology" audits are actually just basic software audits. These vendors use an automated tool to ping devices on your print servers, which means they only audit network devices, and deliver a shallow dive into functionality. In short, these audits account for a single facet of your technology operations, leaving critical gaps in your workflows.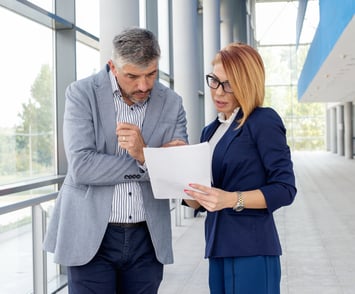 Contrarily, a BTA goes beyond hardware-centric metrics to capture the big picture, with in-depth analyses into the applications and workflows behind your operations. Our teams assess:
Network devices
Individual workstations
Standalone equipment, like fax machines
Consumables — toner, paper, etc.
Existing contracts + payment plans
Hardware + software applications
Internal challenges
We spend time onsite at your facilities, recording details about the equipment and processes you use and how your teams manage them on a daily basis. We won't just ask what print manufacturer you work with or what brand of toner you buy; instead, our expert analysts connect with core internal teams to uncover what works well and where gaps arise.
We ask open-ended questions to open up new opportunities and touch on pain points no one has ever addressed before. We'll also review critical processes in real-time to evaluate how well your current systems align with their intended applications.
2. Improve Internal Efficiency
Inefficiencies are an inevitable part of organizational growth. As a new need arises — like a new printer or scanner — IT and finance teams must act quickly to fill it. Without a comprehensive solution or action plan in place, they'll often turn to the most convenient option or the one with the lowest initial price tag. This ad-hoc approach may work for a while, but it builds up internal complexity over time, wasting both labor and resources across your organization's daily operations.
Our experts meet with your IT teams during the BTA process to discuss how they currently manage your fleet: the network, equipment, and systems in place for printing and other document-related processes. These conversations encompass various elements of your workflows, including: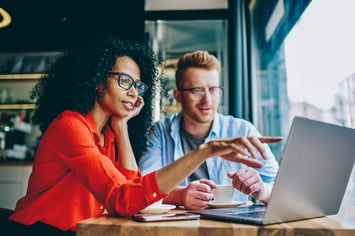 Fleet Management: How do you manage your fleet today? How well does this process align with your goals or ideal state?
Document Security: Does each department have its own secure print processes? How do you manage sensitive information within your print systems?
Time Management: Where do you spend the most time on tedious or outdated tasks? How much time would you save if you optimized these systems?
In the IT department, we focus primarily on fleet management and related workflows. However, we touch on related pain points to uncover next-level details into your current and ideal state, along with team sentiment and improvement opportunities you can't identify by simply auditing how well your equipment functions at a base level.
Time is one of the biggest things we give back through our BTAs, simply by asking teams, "how does your equipment work for you?"
For example, you may use the scanner down the hall instead of installing one in your office. You have a system that technically works, and you have access to a scanner. However, you may spend hours every week walking back and forth to scan stacks of documents. If we could give you added time and convenience in your schedule each day, how much more could you accomplish?
3. Regulate Print Expenses
Process improvements go a long way when it comes to employee enablement and cost savings. However, most organizations stack up hidden, unregulated print expenses beyond network management processes or time spent on printing tasks.
We connect with your finance department during the BTA to understand exactly where and why these expenses pop up so that we can create a solution to reconcile them. This includes a deep dive into your current contracts any payment plans, but it doesn't mean we simply offer more competitive pricing to "resolve" your print expenses.
Instead, we'll analyze acquisition, leases, and contractual agreements for your entire fleet. We also identify which of your print expenses are managed versus unmanaged: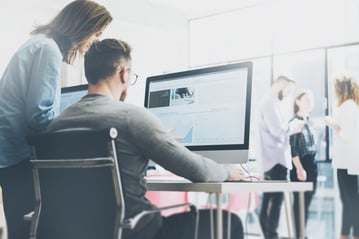 Managed expenses are funneled through existing leases and produce a regulated monthly payment.
Unmanaged expenses cover anything that falls outside of those contractual agreements — like the case of toner you ordered last week or the dusty box of ink cartridges in your supply closet.
These reactive costs may feel necessary but they can significantly impact your overall print budget since they usually aren't factored in until after the charge clears your bank account.
While printers and other equipment can be objectively cheap, the associated consumables aren't. It's easy for costs to build up over time so we work with your teams to cross-reference devices and consumables to create a big picture of your fleet's financial health.
The ideal state is 100% managed print across your enterprise in addition to other returns that you can use in other areas of your business. Your resulting BTA solution ensures you don't sink extra costs into print operations and enables finance teams to account for and track every print expense. Our findings also help you develop a forecasting and budgeting strategy for equipment, consumables, and ongoing support needs.
4. Put the Pieces Together in an Actionable Roadmap
The conversations with your IT and finance teams all roll up into greater business technology visibility. After consolidating the details of these internal syncs, your print workflows, and your fleet management operations, we'll meet with leadership to share our results and gather feedback on our findings. From there, we'll create a dynamic, brand-agnostic solution co-authored by your stakeholders to ensure alignment with your organization's goals and priorities. This solution provides a roadmap to streamline your technology and optimize internal workflows.

As a strategic partner, we'll lead the implementation process to ensure your strategic solution is implemented as agreed upon by both organizations. Together we'll design and deploy open architecture technologies like:
Live dashboards to help IT manage users, equipment, and job releases across machines
Print portals where users can order standard branded materials with consistent color and logos
Payment systems to enforce print policies and collect electronic payment for applicable jobs
Each solution we propose and implement ties directly to our BTA findings; focused on measurable business improvements. We'll design a roadmap around your specific needs and goals, with custom recommendations around in-house print, fleet management, software integrations, and more. With a right-sized fleet and optimized workflows, you'll run an inherently more efficient print operation and enable new opportunities for returns.
Ready to see how UBEO's Business Technology Assessment can transform your operations?
Contact our team today to start the conversation.
I am proud to work at Ubeo and be part of the Business Technology and Print world for 18 years. In my time in this ever-evolving customer-centric company, I have developed from a Customer Service Representative through growth and development of the Business Technology Assessment (BTA) process as the Senior Business...