April 13, 2022
Politics and LinkedIn: Do they mix?
Public discourse is polarized in many countries today. Statements about controversial topics, whether they are made in person or online, are routinely pounced on and the conversation spirals into heated debate. Worse, the debate often becomes little more than lobbed insults and attempts to score talking points. Attempts to avoid conflict can become confusing in an era when even what gets labeled, "political" is unclear.
---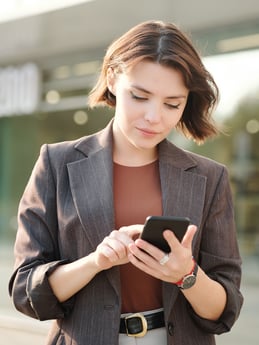 On LinkedIn, most users are just trying to go about their business. They want to make connections, share knowledge, promote services or products, and find their next role. But as a social media platform, LinkedIn is also about getting to know people and conveying your own personal brand. When any kind of personal opinion or motivational thought might draw a hostile response, what's a LinkedIn user to do?
As with so many things about your LinkedIn profile and activity, it depends. In some fields and roles, challenging conversations are just another dynamic that needs to be navigated. If you're involved with recruiting talent, it's crucial to convey the values and workplace environment that define your company. Users may object (loudly) to some of those values or the way your business structures or conducts itself. If you are a thought leader, you are in the business of expressing opinions and sharing your knowledge. It won't always be welcome. And some industries and companies are just in the news a lot and are routinely the focus of charged discussion.
How we engage people who respond negatively to our content, interactions, or even parts of our profile is a personal choice. But remember that people are watching. People are constantly online learning about you from LinkedIn. Ensure that your response, if any, is professional and in keeping with your brand and your company's.
Your news feed is another place where content may appear that you find distracting, or even highly objectionable. LinkedIn allows users in the US to customize the posts and other updates that appear in their feed by indicating they prefer not to see political content. Currently, LinkedIn defines political content as, "political parties and candidates, election outcomes, and ballot initiatives."
To see less political content:
Click the … More icon on the upper right of the post you don't want.
Click "I don't want to see this."
Select "I don't want to see political content" in the Don't want to see this pop-up
Click Submit.
The post will be removed from your feed. LinkedIn will also try to show you fewer posts like the one you marked. You can further adjust your political content preferences by using the Feed preferences feature under Settings | Account preferences | Site preferences.

The content you see will also be customized over time based on your choices. When you follow, unfollow, or mute people, companies, and hashtags, LinkedIn adjusts the content that you see. You also have the option to report inappropriate content and LinkedIn will immediately investigate and take appropriate action.

In the end, it's impossible to always avoid difficult content and interactions. But LinkedIn gives us tools that help us build and communicate with a network focused on the business topics that matter to us. And we need to use sound judgment online because all eyes are on us now.
Sandra Long is a LinkedIn consultant, speaker, and the author of LinkedIn for Personal Branding: The Ultimate Guide. Sandra works as a consultant and trainer with top B2B companies.