December 12, 2022
UBEO Expands into the Carolinas with the Acquisition of COECO Office Systems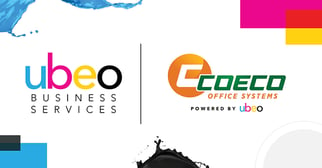 Austin, TX - UBEO Business Services ("UBEO"), one of the largest national providers of business technology and related services, is proud to announce that it is adding another great company to the Eastern Region with the acquisition of COECO Office Systems. COECO Office Systems has locations throughout North Carolina, South Carolina and Virginia - expanding UBEO's footprint on the east coast from South Carolina to Maine.
COECO Office Systems, founded in 1921, has been owned and operated by four generations of the Robbins family. Its legacy of exceptional service throughout its long history has evolved over a century, from its roots selling office supplies to becoming an industry leader in business technology and related services.
Jim Morrissey, President of UBEO, commented, "Our strategy is to purchase companies that fit our culture and match our customer first value proposition. The acquisition of COECO also allows for contiguous geographic expansion into the south-eastern portion of the United States. Having established a strong core business in the Carolinas, we plan to bring the full power of "the U" to bear by leveraging our value proposition, which focuses on providing best-in-class services, as well as our four-pillar strategy of production print, wide format, strategic accounts, and workflow software. The UBEO menu of best practices has proven to be successful as we continue to grow our existing accounts and attract new clients. By incorporating the leadership of the Robbins family and their dedication to customers, employees and the community, the acquisition of COECO is a perfect fit for UBEO."
Chuck Robbins, CEO at COECO, commented on joining the UBEO family, "The choice to join UBEO just made sense for our company. We had maxed out our growth with our current structure and we wanted to provide more opportunity for our team members to grow. UBEO brings growth opportunities to our team and additional support for our customers. We could not be happier with this decision."
About UBEO Business Services
Headquartered in Austin, Texas, UBEO is now the fastest growing business technology organization in the country. UBEO has over 1,200 employees in 14 states. Since 2018, UBEO has enjoyed over 6x in annual revenue growth. While the organization is rapidly growing, its commitment to excellence is paramount. UBEO Business Services with its best-of-breed offering remains committed to being the "high-end customer experience" in the industry.
UBEO's success is attributable to its commitment to acquire best-in-class companies and build a premier brand in the Document Technology industry. For more information, please visit www.ubeo.com.
About COECO Office Systems
Founded in 1921, COECO Office Systems began selling office supplies to local businesses. COECO has evolved through every major change in the business technology industry.
COECO has grown to nine locations in South Carolina, North Carolina, and Virginia. Learn more by visiting www.coeco.com.
Ronnie Hay is the Marketing Director for UBEO.
Connect with the author