March 24, 2022
Three Signs It's Time to Update Your Document Workflow
Your organization processes a stream of documents every day—whether physical, digital, or a combination of the two. These documents enable knowledge transfers and record keeping, but they can also create frustrating roadblocks if they aren't appropriately managed. Consider the following scenarios:
You can't remember the last time you thought about how documents move throughout your organization.
You aren't sure how, when, and why certain files are shared internally or externally, and who has access to which ones.
Your employees spend hours sorting through disorganized file cabinets and/or aren't sure where to find critical documents.
If any of these sound familiar, your document workflows probably aren't as effective as they could be. In this article, we'll talk through the value of efficient workflows and share several warning signs that likely mean it's time to assess how your organization manages its documents.
What is a Document Workflow?
As the name suggests, a document workflow is a system used to manage documents as they pass through your organization. Each department has a unique document workflow that should give everyone transparent access, control, and governance over all the documents that move through it.
However, when workflows form naturally over time, they often leave gaps, blind spots, or pure inefficiencies in the way your teams work. That's because most department-level workflows are informally designed by the people completing the task, and they more or less make them up as they go along.
Your employees might say, "That's just the way we've always done it," and continue about their day, but this approach puts a band-aid on an issue that could create significant concerns down the line. The key to implementing successful workflows is to create each one intentionally rather than relying on legacy processes or letting each employee define their own unofficial document workflow.
As your operations grow beyond just a few employees, workflow inefficiencies can be costly to your leadership team, frustrate administrators, and reduce productivity amongst your employees.
So how do you know if your workflows need work? And what can you do to start taking control of them?
3 Signs It's Time to Rethink Your Document Workflows
Sign #1: Paper, Paper, and More Paper
When you walk around your office, do you see big stacks of paper on your employees' desks? Your employees might be spending as much as 40% of their time tracking down paper files.
Think about an invoice in an accounting department. How many steps does that invoice go through until it is paid? How long does that take? What happens if it ends up under a stack of papers on your accountant's desk?
Vendors may offer early payment discounts for firms that remit payments before the due date, which means keeping track of and paying them on time can help you cut costs and avoid late fees or other penalties.
Most industries have specific document guidelines—like retention policies—that require you to keep paper-based files, at least for a while. However, holding onto too many paper files creates massive disorganization and can even cause financial losses for your business. When you revise your document workflows, you might also consider if converting your paper-based files into a digital format could help you get a handle on file organization and clutter.
Sign #2: Repetitive Manual Tasks
Does your team complain about repetitive tasks related to documentation or filing? Some manual tasks are unavoidable. However, some more repetitive ones don't require a human touch. Perhaps someone spends hours each week scanning paper files and uploading them to your cloud drive, or maybe they have to update file spelling conventions one-by-one across their entire department.
There are hundreds of options, from small technology integrations to end-to-end document workflow management systems that can automate manual tasks like filing and routine documentation updates. These solutions will reduce the risk of human error and speed up document workflow processes. Plus, they help your employees steer clear of tedious tasks, freeing them up to work on projects that leverage their full range of skills.
Sign #3: File Accessibility Issues
You know that frustrating feeling when someone emails you a GDrive link to a file you can't access? Then, you send a request and spend several minutes (or hours or days) waiting for the "access granted" email to hit your inbox. Multiply this frustration by 100 if the file contains time-sensitive information or has a hard deadline.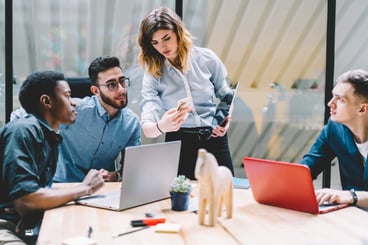 Document governance isn't just important when sending information to a third party; it's also a concern across internal operations. Organizations with remote teams are especially susceptible to access or governance concerns since employees may access files from personal devices and varying geographies.
Unfortunately, most approaches to "remote-friendly" document workflow governance lean too far in a single direction: either giving everyone blanketed access to everything or making employees jump through several hoops each time they need to access a file.
If you, your employees, or your clients have trouble accessing relevant documents, there's probably a disconnect in each department's document workflow. And if you have no idea who can see sensitive information within your cloud-based drive or file repository, your risk of a cyberthreat or HR catastrophe cannot be overstated.
Update Your Document Workflows with UBEO
Addressing your document workflow concerns head-on can help you implement more efficient processes, technologies, and systems that support your growth and continued business success.
To learn about our holistic business technology assessments and the workflow optimization opportunities they uncover for our clients, reach out to our team today.
Looking for more insights into the document workflow management process? Check out our related blog post, How Document Workflow Optimization Supports Your Internal Teams, to see how refining your workflows can empower your employees.
I am passionate about providing excellent customer care, building relationships based on trust, and delivering results that benefit the customer and the business as a whole.