August 30, 2022
How to Prepare for a Business Security Assessment with the "CIA" Framework
Cybersecurity is top of mind for most business leaders as they migrate to the cloud and embrace remote work. In fact, 82% of organizations increased their cybersecurity budgets in 2021, and cybersecurity accounts for an average of 15% of corporate IT budgets.
Everyone wants to keep their operations secure, but before you can implement new solutions or refine your cybersecurity strategy, you need to understand the gaps in your existing operations.
A business security assessment can help you evaluate your current state, identify potential gaps, and create a cybersecurity strategy that reduces risk and improves security at every level of your organization.
What Is a Business Security Assessment?
During a business security assessment, you or your IT partner will evaluate your organization's cybersecurity measures and potential vulnerabilities. These assessments are critical as they help you understand your threat potential, allowing you to create an attainable remediation plan to protect your business from threats and reduce risk.
A business security assessment also evaluates how effectively your IT solutions protect the assets within your business and provides helpful recommendations on how to improve security. You can break all of your assets down into three types:
People

Property

Information
These categories require unique security measures to ensure that your business is secure, like authorization tokens for people and private links for spreadsheets with sensitive information.
The "CIA" Framework
The acronym "CIA" doesn't just refer to the U.S.-based intelligence agency. The CIA security framework is a simple tool that gives your leadership teams a high-level view of company security protocols. Using the CIA can help you think about security operations before conducting a full-fledged business security assessment.
Confidentiality
Confidentiality keeps your organization's data, objects, and resources protected from unauthorized access. It's an all-too-important element of secure business operations and forms the foundation of most networks.
Rather than giving everyone access to everything, you should build a confidentiality strategy that provides users access to just the information they need to do their jobs.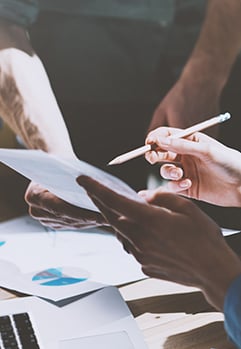 Authorization tools, two-factor authentication, and similar safeguards allow organizations to limit access to information across devices and systems. They ensure users who need access to confidential information have it and keep users who should not access that information locked out of secure systems.
Most organizations implement access controls when first setting up their systems, but it's essential to assess confidentiality and accessibility on a routine basis, answering questions like:
Does our management team know who can access our critical business files?
Are we limiting access based on necessity or giving blanket access to every user?
What can vendors, contractors, and other third parties access within our systems?
Do former employees still have access to sensitive company information?
When was the last time we updated user access lists and licenses?
Your answers will help you determine how well your business performs in the confidentiality department and identify potential gaps in your access controls.
Integrity
Some cybersecurity teams only focus on data security, but compromised data can be as damaging as stolen data.
The information residing in your database is what runs your business. A lack of reliable data puts your business at risk and disrupts your daily operations. Data corruption could come from a hacker or a virus that makes it onto the network. It could be intentional or unintentional.
Data integrity refers to the accuracy and consistency of all the data in your business network. Data doesn't just need to be confidential; it also needs to be up-to-date and well-organized—think naming conventions, file structures, and automatic updates. To start assessing your data integrity, consider questions like:
Do we have standard formats, naming conventions, and data retention policies in place?
When did we last clean up and standardize our data libraries?
What solutions or processes do we have in place to maintain data quality?
Do any of our teams have access to outdated, incomplete, or inaccurate data?
Data loss falls into this bucket as well. Disasters such as floods, fires, and earthquakes can destroy infrastructure, damage servers, and wreak havoc on your operations. Back-up solutions should be an essential part of your security plan because they affect business continuity.
Availability
The last piece of this framework is availability. Availability means that users can access data how and when they need it without compromising security. Availability often doesn't get much consideration, but it is essential for any good security plan.
IT will often favor confidentiality over availability because they are ultimately responsible for your network's security. However, if you don't assess availability from the users' perspective, your employees will find ways to circumvent the system. To evaluate how well your organization performs on the availability front, ask your IT team questions like:
How many IT Help Desk requests relate to accessibility or information availability?
What business workflows do we use to make data available to our remote team members?
Do our employees ever use workarounds or 'trick' the system to get ahold of critical business documents?
Availability is increasingly vital as hybrid and remote work become more popular. If an employee working in an asynchronous time zone can't get into your cloud drive or similar environment, they'll waste an entire workday waiting for your IT team to follow up during their business hours.
Facilitating reliable access through a cloud-based drive or enterprise content management system is integral to your business security operations.
Strengthen Your Cybersecurity Operations with UBEO
The CIA framework is helpful, but it's only the first step toward improving your cybersecurity strategy. If your CIA scores aren't where you want them to be, it's likely time to invest in a comprehensive business security assessment or even a holistic business technology assessment to ensure your systems are secure, efficient, and user-friendly.
At UBEO, we don't believe in one-size-fits-all cybersecurity solutions. Instead, we take a deep dive into your IT team's tools, strategies, and workflows to provide you with a complete picture of your cybersecurity performance and identify improvement opportunities.
To find out how we can help you protect your business from cyber threats, reach out to our team today.
Erick Miller has more than 20 years of experience in information technology management and serves as UBEO's VP of Technology Solutions. Erick oversees the Information Technology, Solutions and AV, ECM, and Managed Services teams. In his leadership, Erick holds firm to the belief that you are only good as your team so...