February 25, 2022
How to Use Escape for Vinyl Applications in Your Print Shop

Whether you manage in-plant print production or a commercial print shop, tackling wide-format applied graphics can be daunting, especially if you need to produce several large-scale signage or other vinyl-based orders in quick succession.
Technique and experience are essential, but your choice in print materials and equipment also has a significant impact on how your final products turn out—and how long they last in public-facing displays.
This article showcases one of our team's top picks for applied graphics: Escape Vinyl. Keep reading to learn more about Escape's vinyl application, benefits, and role in your print shop's long-term strategy.
What is Escape Self Adhesive Air Egress Vinyl?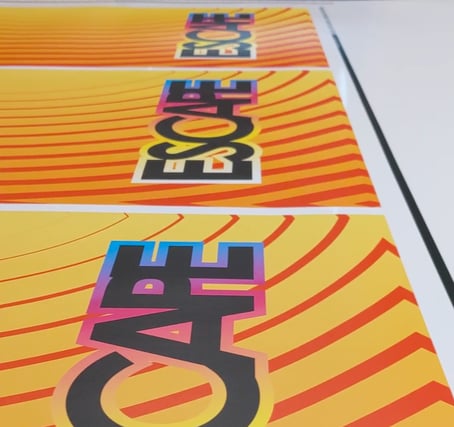 As the name indicates, Escape from UGraphics is a wide-format digital self-adhesive print media with air release channels in its adhesive. The air release, or "egress" feature, pushes air out from between the vinyl and application surface to ensure a bubble-free, wrinkle-resistant final product.

Escape vinyl is affordable and versatile, making it ideal for general graphics and signs, including large-scale signage, stickers, decals, labels, and graphic boards.

Beyond its error-resistant vinyl application process and adhesive formula, Escape vinyl is durable and has an expected outdoor durability of two to three years. From trade show displays to point-of-purchase advertising in retail stores, Escape makes it feasible for print shops to manage sign-making in-house.
Benefits of Escape Vinyl Application
Ease of Use
Unlike some vinyl media that requires decades of experience or complex installation processes, Escape is straightforward to use and easy to apply on multiple surfaces. Escape vinyl is a go-to for foam board signs and other large-scale surfaces thanks to its straightforward application process. The unique air egress adhesive helps signmakers with all levels of experience achieve bubble-free application every time.
Quality and Durability
You might feel like you have to sacrifice price to achieve the right level of quality in your print shop vinyl and other media. However, Escape can bring the best of both worlds to your operations, with a financially friendly price tag and quality standard that gives industry-leading media vendors a run for their money. Escape is exceptionally well-constructed and offers signmakers a gray-back adhesive that most competitor products don't include. This unique backing includes a UV clear coat to help prevent sun fading and increase damage resistance over time.
Adaptability
Escape vinyl's affordable pricing, high-quality finishes, and easy application make it the perfect standard vinyl for your print shop.
Use it to help customers create high-impact messaging and marketing materials, like custom signage for advertising, event displays, and general media. Its virtually error-free application also works well for floor and wall vinyl.
Paired with UBEO's print-and-cut technology and HP latex equipment, Escape empowers print shops to create decals of any shape and size for internal and external vinyl applications.
Add Escape to Your Production Plan with Help From UBEO's UGraphics Department
From tricky floor vinyl to high-value signage for events or promotional endeavors, Escape gives your print shop employees the confidence and peace of mind to tackle wide-format vinyl graphics in-house.
By using Escape to bring more jobs back into your print shop, you'll reduce outsourcing costs and gain more control over quality, appearance, and product schedule.
UBEO's UGraphics department invests heavily in research and development to provide our clients with the best solutions for their printing needs. We'll help you select equipment, software, and print materials, then partner with your team to develop cost-effective strategies that allow you to bring expensive outsourced print jobs back into your shop.
Unlike traditional product vendors, we don't set up your new devices and disappear into the background. Instead, we develop an ongoing partnership with your teams to provide training, maintain your equipment, and explore new improvement opportunities as the market and your print strategy evolve.
Contact our team today to learn how we can support you as a one-stop-shop for all of your technology and supply needs.