May 24, 2022
Is Your Business Ready for Cloud Fax?
Modern offices are rooted in digital technology. Employees use smart devices to communicate, automate tasks, streamline workflows, and more, except when it's time to send a fax.
Why do so many offices rely on clunky manual processes to fax documents back and forth? Is it time to adopt modern, cloud-based fax solutions instead?
In this post, we'll recap a brief history of analog fax and discuss why many businesses are turning to digital tools like cloud fax to reduce expenses, streamline operations, and support remote employees more effectively.
Using Analog Fax in a Digital Workspace
The first business-ready telephone fax machine, also known as the analog fax machine, was invented by Xerox in the 1960s. And while many of the business solutions offices use every day have evolved significantly since then, fax hasn't changed much.
Since the emergence of fax servers in the '80s, users have been able to send faxes through a digital printer or multi-function device (MFD) and partially integrate fax operations with email. However, this approach leaves a lot to be desired.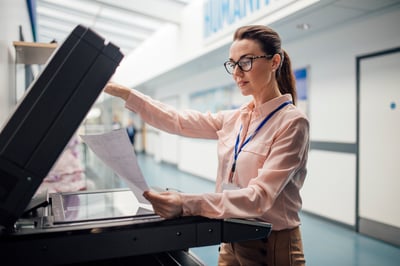 A standard digital printer processes faxes at a rate of one minute per page, so offices that rely on fax take a significant hit when it comes to staff productivity. From extra time spent standing at the machine to the stacks of paper that move directly from the exit tray to the trash can, businesses waste precious time and expensive resources with each fax sent from their office.
Analog fax also requires organizations to keep at least one dedicated landline to send and receive faxes. A finite number of lines means leaving employees waiting half the day to fax a one-page document or worrying that a busy signal will block critical incoming information.
As digital, cloud-based business operations become more popular, many telecommunications providers are eager to move away from landline fax transmissions. In the UK, one major provider plans to stop supporting analog fax transmissions altogether by 2025. And even if America doesn't see a distinct shift away from analog, businesses will still see significant dips in service and availability.
Newer commercial office spaces don't always support landline phone connections, and even the best in-office solutions leave remote employees without a reliable way to fax.
At this point, you might be wondering why businesses still rely on such a manual, time-consuming process. Even though fax is a legacy technology, it still meets many business requirements around security and compliance.
The average cost of a fax line costs over $50 and averages 77 pages per month (non-medical)—which means many businesses are still paying 65 cents or more per fax page. What's the best way to bring your office fax operations into the modern age and reduce hefty fax expenses?
Enter: Cloud Fax

Cloud fax goes by several names, including digital fax, eFax, and online fax. Regardless of which term is used, the concept remains the same. It allows businesses to send and receive faxes without on-premises hardware or software. Instead, employees use an email program or web portal to send and receive faxes.
Benefits of Adopting a Cloud-Based Fax Solution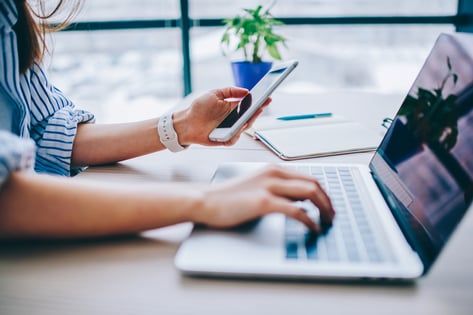 Affordability
Analog fax comes with a high price tag. Businesses must first invest in printers or MFDs with fax features, then balance ongoing costs like:
Print supplies, like ink, toner, and paper
Phone connections that cost over $50 per line
Labor expenses for the time employees spend standing at the fax machine
Redundancies between analog fax and email communications
On the flip side, cloud fax's flexibility and scalability can result in significant savings for your business without compromising fax capabilities or system security. Rather than paying for each phone line, you can invest in a single software that supports multiple fax jobs simultaneously. You'll also reduce your carbon footprint by eliminating the excessive paper waste that accompanies analog fax.
"We implemented cloud faxing to solve our issue with faxing emergency broadcast to all first responders in emergency situations. It would take hours to send via fax machine prior to cloud fax. Now with cloud fax, a fax can be transmitted to all agencies simultaneously from anywhere."

— Santa Clara County
Efficiency
As mentioned above, analog fax requires lots of time and effort from your office employees. They have to stand next to a machine and wait for a fax to go through, then pick up the confirmation page, scan it onto their computer, and save it in an unspecified folder they'll hopefully be able to reference down the line.
This approach isn't just tedious; it can also create roadblocks across several business workflows. Think about the time wasted waiting for a fax to send or, even worse, waiting for a machine or phone line to open up in the first place.
Cloud-based fax software boosts efficiency and convenience in one go because it seamlessly integrates with the tools your employees already use every day—like OneDrive, Teams, Office 365, or SharePoint. Rather than investing in a new solution with a steep learning curve, you can implement a cost-effective solution that your team already knows how to use.
Employees can open their email or cloud folders to upload and fax documents any time, anywhere, with the confidence that documents will be sent securely to their destination.
Security
Analog fax's major benefit is its robust security, especially since it's been responsible for secure file transfers for so many years.
Many business leaders are hesitant to move to digital or cloud fax due to cybersecurity risks. They perceive email or any digital transfer as "less secure" than analog fax over a phone line, and recent spikes in cyberattacks haven't helped alleviate these concerns.
In truth, cloud faxes transmit across networks via TLS 1.2 encryption, the same encryption standard already in place in popular workforce solutions like Office 365.
All-digital cloud-based fax also eliminates common security concerns associated with analog fax, such as documents left sitting on an MFD's exit tray in a busy office, dropped onto the wrong desk, or pulled from the recycling bin by someone other than their intended audience. Digital faxes sent through the cloud appear on the recipient's secured device, just like an email.
Accessibility
Today's professional landscape is rooted in flexibility. Employees want hybrid or remote working options, and many organizations operate with distributed teams in several different regions. Unfortunately, analog fax requires in-person hardware, a physical phone line, and printing supplies that often aren't accessible to employees outside of the office.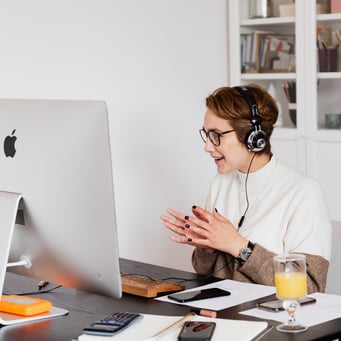 Cloud fax is designed for the future of remote flexibility. You can integrate the software into operational systems your employees already use and roll out all-digital fax features to every team member with a computer, regardless of location.
With cloud fax, all of your employees can send outbound faxes digitally and receive confirmation sheets over email. In some cases, they can even send outbound faxes without a dedicated fax number, which means less overhead cost and IT complexity for you.
Cloud-based fax also eliminates the need for phone lines, extensive hardware, and, in some cases, individual user licenses. That means it not only supports your hybrid workforce today, it can also scale rapidly and affordably as your team grows.

Move Your Fax Operations to the Cloud with UBEO

Not all cloud fax software is created equal. And while some providers charge per user or implement fax minimums, partners like UBEO offer enterprise contracts that give every team member fax privileges and only charge you for what your employees actually use.
As technology experts, we can also integrate cloud fax technology directly into your print equipment and operational software simultaneously to ensure efficiency and a great user experience.
To learn about our cloud-based fax solutions, reach out to our team today.
Remember, fax is just one element of your business workflows. Our holistic business technology assessments (BTAs) allow our teams to assess your entire business ecosystem, including print, fax, and document management operations.
To learn more about our BTA process and the opportunities it uncovers, check out our blog post, Four Reasons to Invest in a BTA.
Erick Miller has more than 20 years of experience in information technology management and serves as UBEO's VP of Technology Solutions. Erick oversees the Information Technology, Solutions and AV, ECM, and Managed Services teams. In his leadership, Erick holds firm to the belief that you are only good as your team so...